An #eventapp totally dedicated to the event!
This solution allows to answer a question, play, follow a presentation, draw, take a photo, ask a question …
The possibilities are limitless, discover our offer!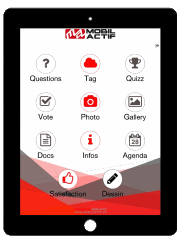 For your events, we can implement a solution by using iPads or smartphones.
MobApp and WebApp are two solutions to give content to your guests but especially to interact!
MobApp is available on Apple Store and Google Play and accessible via wifi via internet.
WebApp is a web application available through a dedicated URL (www.event.fr) so no download is required. WebApp works on all devices.
We can install a wireless network or local network dedicated to your Mobapp / WebApp to allow your guests to interact safely.
Our strength compared to other offers available on the market? MobApp / WebApp is fully customizable! You do not have to adapt, our application suits your needs and your event.
MobApp / WebApp is fully customizable :
colors of your event
graphic of your business
development of specific modules
French content or multilingual
Try our application MobApp by simply entering the code DEMOX


Modules available on MobApp and WebApp :

Interactives modules
Question: Participants have the opportunity to ask a question directly from a form. The questions are then received on our platform in order to be moderate to then be displayed on a giant screen.
Quiz / Vote: Participants can answer a Quiz with multiple or single choice. The Quiz can be in the form of a competition for selecting the persons who obtained more correct answer.
Tag Word / Wordcloud: Ideal as Ice Breaking. Participants can send one or two words corresponding to a question. We receive all messages and analyze the recurrence of each word. Depending on the frequency, we display the words more or less on a large graphical interface.
Satisfaction Survey: Participants can answer to a satisfaction survey on their feelings in relation to the event or on a specific subject.
Survey: Participants can answer a series of questions. They can also assign a note by dragging their finger across the screen.
Workshop: Participants work in teams and think to find solutions. Participants are gather in working group and exchanges on a subject.
Informational modules
Diary: Participants have access to all the program of the event, the dates and times of each conference, interventions…
Map (plan): With this module, participants will never get lose in an event. This module allows to visualize the plan, and the access of your event.
PDF Documents, Video: With this module, you can make your PDF documents, brochures, videos … available to all your participants. Participants may also send documents on their email adress.
List of participants: Participants have access to an organisation chart with photographs that presents itself as a gallery and with the possibility of finding a guests descriptive sheet (possible access to Twitter, LinkedIn account of participants).
Notifications: This module allows you to send messages to all participants, but also to send information to a specific user.
Useful information: This module allows you to make available necessary information of your event to participants (access, program dates, times, hotels …).
Photo & drawing module 
Photos: Participants can at any time take a photo through the app, upload a photo via the photo gallery of the support and share a photo via social networks. They have access to all the photos that are shared on the application for the duration of the event.
Photo Gallery: Participants have permanent access to all the pictures taken during the event. In addition, they can comment a photo and see comments posted by other participants.
Drawing / Signature: With this module, participants can express themsleves by drawing or writing hand up directly on the support. Participants can also sign directly on the iPad.
We also rent iPads and iPods Touch and set upt everything for the operation, including a Wi-Fi network to connect iPads to each other.
New feature: The iBeacons!
The use of ibeacons used to trigger an action on the device (smartphone, tablet …) of a user when it approaches or moves away from a specific place:
Enable a Module
Appearance of a message
Automatic login option
Opening a URL